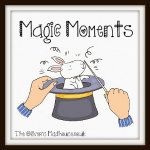 It's that time again! Time to link up to Oliver's Madhouse and to stop and remember just how blessed we are. It's often hard when life goes so fast, to always appreciate what we have so it's nice to have this linky:)
On Saturday morning, I had decided last minute that I would have a girls only day with Thunderpants. I have been feeling like we just don't get a long but wanted to change and make more if an effort with her.
I asked what she wanted to do and her idea was the cinema. I also suggested a few other activities and out of them all she chose ice cream and having her nails painted. On our way to the cinema she saw a travel agents and as we had recently discussed going home to Canada and Disneyland Florida, she wanted to go in.
We priced up flights and all in one packages and although we can't afford it this year, we may be able to go to Paris instead and then go home to Canada in the summer. As we had time and peace to talk, I asked her what her ultimate holiday would be to which she responded "to go to Canada and see all of her friends and family as she misses them".
It was nice for us to be able to chat, not have to rush back for feeds or be distracted. It was all about my full attention on her and not saying things like "no, we haven't for time to do that" or "maybe another time when we aren't so rushed" etc.
It made me realise how little time I spend with her on a one to one basis and how the time is there at weekends and I need to utilise it more. Also, she really is a special little girl who just loves to play and have me all to herself. Nowt wrong with that:) We need to remind ourselves that our children are blessings and amazing when times are tough.
Here are some pics of what we did:)
We then finished up the evening with a McDonalds, a swim in the pool, a bath together and me putting her to bed. What was your magic moment?